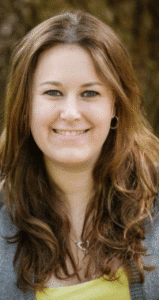 Lindsay Weinmann, M.A., LPC is a Licensed Professional Counselor. Lindsay works with children, teens, parents, and families. She works with ages 2 and up with varying diagnoses including Autism Spectrum Disorder, Social Pragmatic Communication Disorder, Anxiety Disorders, ADHD, ODD, Depression, and Learning/Developmental Disorders. Her services also include play therapy, school observations, and animal assisted therapy.
Lindsay has had specialized training in modalities such as Brain Gym, Rhythmic Movement Training, Adaptive Communication, Chronologically Controlled Developmental Therapy, and Bal-A-Vis-X, which greatly support children with ADHD, ODD, ASD, and anxiety. She has experience working with children with severe aggressive and self-injurious behavior and is certified in Therapeutic Crisis Intervention.
Services she offers include Parent Training and behavioral coaching for children. Through the use of cameras installed in our playroom, feedback can be given via earpiece to help parents work with their children and sessions can be recorded for parental feedback.
In addition to working with young children, Lindsay uses individual focused treatment plans for teenagers that utilize their interests, hobbies, social circle, and family to support in treatment.
Lindsay uses a relationship and client-centered approach with her patients in order to build an open and welcoming environment for them to grow. She believes in building a stronger relationship between parents and children through positive interactions, mutual respect, realistic expectations and healthy boundaries.
Lindsay offers after-school, evening and weekend appointments for parents' convenience.
EDUCATION
Master of Arts in Clinical Psychology, December 2016 – APA Accredited Program, Texas Southern University- Houston, TX
Emphasis: Clinical Community Psychology
Bachelor of Arts, August 2013, Texas Tech University, Lubbock, TX
Major: Psychology; Minor: Human Development and Family Studies
CLINICAL WORK EXPERIENCE
September 2014 – May 2017 Behavioral Therapist/Program Supervisor
The Next Step Academy- Sugarland, TX
Provided behavioral and developmental health components to children with various developmental delays, learning disabilities and other genetic or mental health diagnoses. Conducted developmental, verbal mapping, relational development, and adaptive living skill assessments. Developed, maintained, and updated Treatment Plans, Individual Learning Plans, Individual Crisis
Management Plans, and Behavioral Intervention Plans. Created in-home parent behavioral management plans and lead parent coaching and education sessions. Implemented modalities of Brain Gym, Rhythmic Movement Training, Adaptive Communication, Chronologically Controlled Developmental Therapy, and Bal-A-Vis-X Training. Supervised program staff, created daily schedules, communicated with parents and staff across multiple programs.
CLINICAL TRAINING EXPERIENCE
June 2016- Dec.2016 Clinical Practicum Student
Institute for Special Needs Children, Houston, TX
Provided mental health services to children on the Autism Spectrum as well as parents of children on the spectrum. Modalities included Play Therapy, Cognitive-Behavioral Therapy, Psycho-education, group and individual therapy. Services included clinical interviewing, coordination and implementation of treatment, case management, client advocacy, and parent training/education.
August 2015-June 2016 Clinical Practicum Student
Monarch Family Services, Houston, TX
Provided behavior and mental health services for children in Houston's Fifth Ward, CPS Clients, and community members.
Modalities included play therapy, group and individual therapy, assessment, and psycho-education. Services included clinical
interviewing, coordination and implementation of treatment, case management, client advocacy, parent education groups, social skills children's group, children's anger management group, and supervised visitations. Primary clients were children ages 6-10 and adults ages 20-45. Experience leading children's groups and parent education groups.
UNDERGRADUATE INTERNSHIPS
May 2013-August 2013 Summer Intern
Boy's and Girl's Club, Lubbock, TX
Created and implemented group therapy and psycho-educational lesson plans for anger management, social skills, anti-bullying and sexual education groups for children ages 7-15.
August 2012-May 2013 Student Intern
Adoption Covenant, Lubbock, TX
​Case management for adoptive families and birth parents. Provided emotional support to birth mothers on doctor's visits. Support in planning fundraising events and grant proposals. Created curriculum for high school students regarding family planning and options for adoption. Created anger management curriculum for female inmates in local correctional facilities.
PROFESSIONAL LICENSES AND CERTIFICATIONS
December 2019 Licensed Professional Counselor
May 2017 Certified Therapeutic Crisis Intervention Specialist
VOLUNTEER/ORGANIZATIONAL EXPERIENCE
2013-Present Therapy Dogs Incorporated, Houston, TX
Provide emotional support and educational services through use of a certified therapy dog.
2010-2013 Women's Service Organization, Texas Tech University Lubbock, TX
Completed 300 community services hours and served on executive board as Spring 2011
Pledge Trainer.
2011-2013 Silent Raiders, Texas Tech University, Lubbock, TX
Attended and volunteered for deaf immersion events on campus and in the community.